In the last few posts, I've been describing how I use the Lord's Prayer as a template for my daily prayer. So far I've talked about reaching out to my Heavenly Father, acknowledging Him by His names, acknowledging His holiness and perfection, and asking that His will be done. Now we get to ask for the stuff that probably brought us to our knees in the first place... 🙂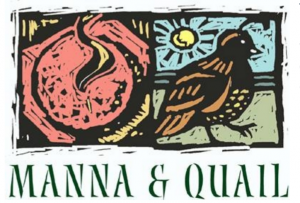 Matthew 6:9-13 New American Standard Bible (NASB)
11 'Give us this day our daily bread.
I find myself approaching this portion of my prayer in two seemingly different ways: with a focus on the austere and with a focus on prosperity- both of which are rooted in the Bible.
First, in the most literal interpretation:
Manna from Heaven
In Exodus, Moses leads the Israelites out of slavery. Yay, right? You might think, "Hey, we learned that God will make a way for us; He cares for me, right? Wrong. The first thing they do is to complain about how they were better off before, because..."Sure, we were slaves, but we got food everyday."
God assures them that He has food planned for them- miraculous manna from heaven! Daily bread! God provides! This is what we all want, right? "God, please meet our needs." Wrong. What we really want is...more...always more.
In Exodus 16, they learn they will be getting bread miraculously delivered to them while on their journey out of slavery from Egypt, one day's worth of bread each day. Then they grumbled that back in the slavery of Egypt they got meat. So Moses assured them that God would provide meat (quail) in the evening and manna in the morning. God even appeared to them to assure them He would provide. So was all of this enough? No. They horded each day, even when they saw that any left-overs would rot.
This was one of the first Old Testament stories that really spoke to me in my youth, because the stupidity of the Israelites was so stunning and disrespectful, and also because I recognize the exact same traits in myself. Enough is never enough. God's history of providing for me and even His firsthand assurances aren't enough to stop the grumbling sometimes.
The point is this. God wants me to ask for my daily bread for that day only, because there is no amount above what we need for that day that will satisfy us. And also, He isn't giving us the bread because we grumbled. He always had a plan for feeding His people, but they started grumbling before He could reveal his miracle. If we have to ask everyday, it reminds us who is doing the providing.
So when I pray for my daily bread, I remember that God already has a plan to provide for my needs; and I try to remember that grabbing extra manna out of fear, isn't going to end up making me feel better.
Second, the bigger picture...
The Prayer of Jabez
Before I continue, the next section may seem like it's contrary to the manna story above, but bear with me.
Later in the Old Testament, In I Chronicles 4, we are learning about the lineage to come from Judah. Several generations into the list the author inexplicably, temporarily interrupts the lists of sons and fathers with a little side story:
I Chronicles 4: 9-10
9 Jabez was more honorable than his brothers, and his mother named him Jabez saying, "Because I bore him with pain." 10 Now Jabez called on the God of Israel, saying, "Oh that you would bless me indeed and enlarge my border, and that Your hand might be with me, and that you would keep me from harm that it may not pain me!" And God granted him what he requested.
I also pray this prayer when it comes time to ask for my daily bread. I ask that God would enlarge by border, my portion. I ask for prosperity. I also ask for protection and salvation from pain and harm.
While it may sound hypocritical to say, "Only ask for today's bread.", and then follow up with "Ask for prosperity." But, remarkably, I don't think these two contradict one another. I think they teach the same lesson: God provides. God wants to provide. God wants to provide according to His riches and glory. However, God is the one providing, and grumbling for more isn't the way to get more.
Remember the first line of the Lord's Prayer- He is our heavenly FATHER. Good, earthly fathers want the best for their kids, but if they take their kids on a special camping trip and the kids spend the whole time grumbling for more and more treats- it makes the father want to limit what he gives them to avoid spoiling them further. But it doesn't change his overall heart for those same kids. He still saves for their college and plans a chore list so they can make their own money to learn the value of it.
Most of all notice the difference in verbs: The Israelites grumbled. Jabez requested.
Ask for what you need today. God wants you to stay close enough to touch base each day. And No Grumbling. But also, dream big and remember how big God is. Ask that He would fill your heart with His dreams for you. He will prosper you in ways you didn't even know you wanted or needed.
God is good; all of the time!
Amen